Choosing the best beaches in Tenerife .depends on individual taste. Being the largest of Spain's Canary Islands, the choice of beaches is vast. The beaches around Costa Adeje and Playa de las Americas are popular with the young party crowd.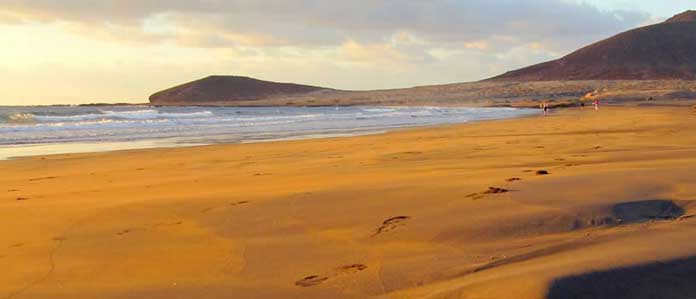 These two areas also offer superb family friendly beaches. Among the most popular in these areas are Playa de Los Cristianos and Playa La Pinta. The beautiful island of Tenerife also boasts several naturist friendly beaches.
More Top Beaches in Tenerife

Visitors to Los Cristianos will find several of the best beaches in Tenerife. Playa de Las Vistas is a family favourite with clean sand and superb facilities. There is a fun children's play area and even a fully equipped area for those with disabilities. Visitors are never short of food and refreshments. The latter's promenade is lined with cafes, bars and restaurants.
Playa de Los Cristianos lies on the other side of the marina. This is smaller but with many facilities. Water sports here are popular with a great selection of lively bars and eateries close by.
For nature enthusiasts, Los Gigantes and Masca boast some excellent beaches. The hiking trail linking Masca Beach and its mountain village is truly spectacular. Walking the clifftop paths of Los Gigantes offers splendid views. These are also popular for adrenaline sports such as rock climbing.
Check Hotels
Beaches in Santa Cruz de Tenerife

The coastal area to the north of Santa Cruz de Tenerife offers some of the most rugged and remote beaches. One of these that is popular with naturists is Benijo. Backed by the dramatic landscape of the Anaga Mountains, this is a beach to get away from it all. Playa de la Teresitas (pictue above is the most popular beach here.
With thousands of rocky coves and reefs, this area is superb for snorkelling and scuba diving.