There are some fantastic holiday resorts in Fuerteventura spread along the various coastlines. All offering many interesting and fun things to do to keep you occupied during your visit. This popular Canary Island lies just south of Lanzarote. Both are the closest of the several main islands to the African mainland.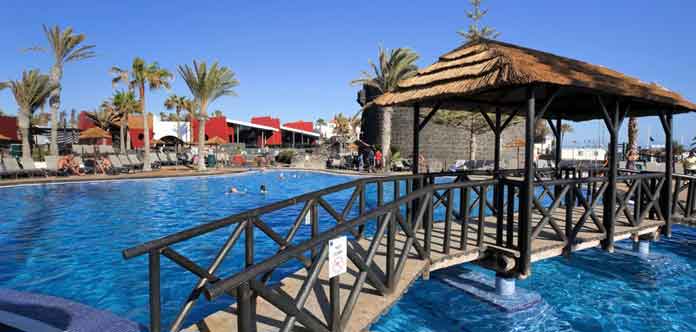 Top Holiday Resorts in Fuerteventura For Families
Below we provide an introduction into each resort. Many have individual pages so you can decide which resort is best for you. This pages also contains information for some of the best beach resorts in Fuerteventura.

Corralejo Map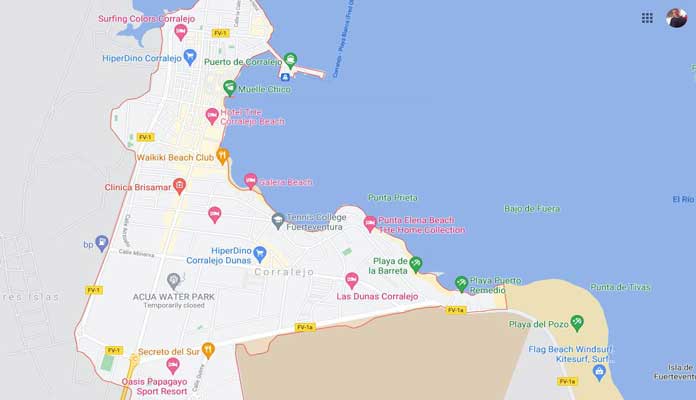 Corralejo is a small town and resort which is on the northeastern tip of Fuerteventura. This super resort faces the small tropical Isla de Lobos (Wolf Island). A day trip to this tiny island (picture above) is highly recommended. Corralejo is one of the two main tourism towns on the island which has evolved from small fishing towns.
This pretty town is now established as one of the leading resorts in Fuerteventura. Corralejo has preserved much of it's original charm since the tourism boom in the 1970's. The streets are now lined with bars and restaurants. These establishments serve refreshing drinks and delicious sea food. From the port you can reach Lanzarote by ferry in around 20 minutes.
Caleta de Fuste Map

Caleta de Fuste is often referred to as Costa Caleta and El Castillo. This resort sits on the eastern coast of Fuerteventura. This part of the island has many beaches which are popular for diving and also snorkeling. Windsurfing and sailing are also common pastimes here.
The nightlife of Caleta de Fuste is quite vibrant in comparison to many parts of the island. Here you will find a good choice of bars, cafes, restaurants and plenty of shops. Two of the best golf courses on the island also lie here, this includes the first Golf Club on the island. An 18 hole course which hosted the Spanish Open in 2004.

Popular Resorts For Couples
The top resorts in Fuerteventura for couples tend to be those in the south west of the island. There are some attractions such as Oasis Park Zoo but this part of Fueteventura is largely unspoiled by tourism.

Costa Calma Map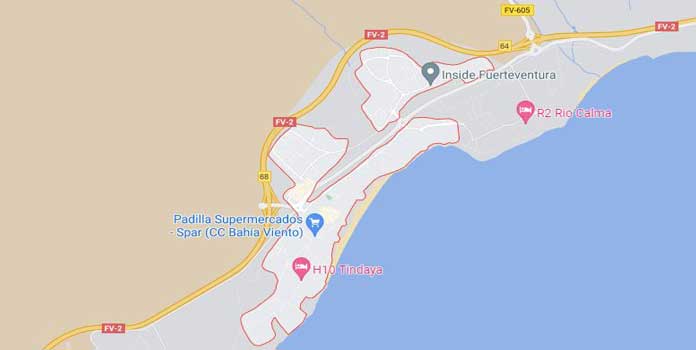 The popular Costa Calma resort lies in the southeast of the island. This resort is particularly popular for windsurfing and other board activities. Sotavento beach borders the Costa Calma. This 9 mile long beach hosts the windsurfing world championships. Playa Costa Calma is another top beach here which is also popular for windsurfing.
For nightlife there are some decent bars and a few clubs to choose from. Other resorts tend to be more suitable for those seeking vibrant nightlife.

Jandia Map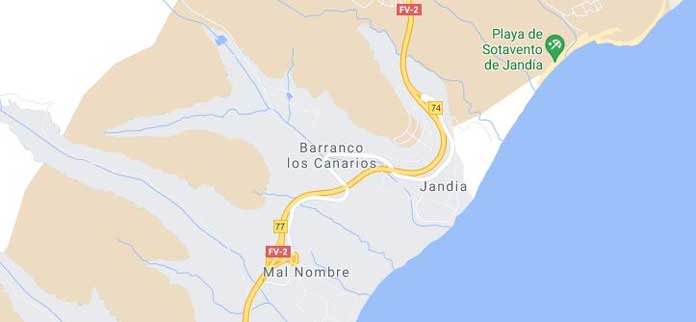 Jandia is the most mountainous area of the whole island. This resort also has a highest elevation of 807 metres above sea level. Pico de Jandía or (Pico de la Zarza) offers spectacular views of the island below. Jandia lies on the western coast of Fuerteventure. The beach resorts here are Jandia Playa (picture above) and Morro Jable. Both of these super resorts boast some of the best beaches on the island and indeed the Canaries in general.
Beach Resorts in Fuerteventura
Below we provide some of the top beach resorts in Fuerteventura. This includes some of the best hotels and along with their locations.

Barceló Castillo Beach Resort
Barceló Castillo is a 4 star all inclusive resort and one of the top options on the island. Here there are 380 modern bungalows and studios that lie on on the beach front of Caleta de Fuste.
Barceló Castillo is the perfect choice for families and couples. This area of Fuerteventura is tranquil and ideal for a relaxing holiday. The accommodation comes with a basic kitchen, terrace or balcony. The facilities here are also excellent with 3 swimming pools and 2 pool bars. The pool areas and bars enjoy beautiful views of the Atlantic Ocean.
Iberostar Playa Gaviotas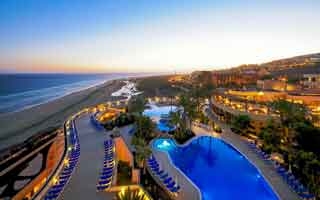 Iberosta Playa Gaviotas is another sea facing hotel in southern Fuerteventure. This is a 4 star hotel close to Morro Jable in Jandia.
Playa Gaviotas lies next to Jandia beach and over 25 km's of sand. Jandia beach is also one of the best on the island.
This super resort is another all inclusive option with a fantastic Spa. Many of the rooms here have beautiful sea views. This is perfect for couples or families. Playa Gaviotas has mini clubs and excellent entertain to keep the children busy.