There are many fantastic resorts in Gran Canaria to choose from that it can be tricky deciding which to go for. This beautiful island pushes Tenerife all the way when it comes to resorts. This is especially true for families who flock here year after year.
Gran Canaria has over 80 fantastic beaches, many super attractions and some of the best weather of the Canary Islands. These range from golden sand to volcanic black sand. Wherever you find great beaches you will find great holiday resorts and this island does not disappoint. Below we have combined the top resorts in Gran Canaria with the best beaches for each.
Maspalomas (Famous With The LGBT Community)

One of the best resorts in Gran Canaria if beaches and sunbathing is your idea of a great holiday. Maspalomas is where you will find the biggest beach on the island. Playa del Inglés (English beach) is an extension of Maspalomas beach. Maspalomas is ideal if you are looking for a relaxing holiday to recharge the batteries. Other resorts offer the frenetic nightlife if that appeals to you.
This part of the island is ideal for taking a long stroll along the streets and promenade. Both are lined with thousands of palm trees. Maspalomas is also a great location for many other popular activities and days out. These include Palmitos Park and the Charca de Maspalomas nature reserve.
Other points of interest here are the beautiful sand dunes. These lie behind the beach and Maspalomas Golf Club. There are several other resorts close to Maspalomas. These include Playa del Inglés, Meloneras and San Agustin.
Playa del Inglés (Lively Resort For Nightlife)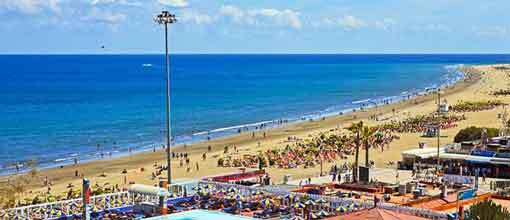 Playa del Inglés is the biggest of the resorts in Gran Canaria and by far the busiest also. If you like what Maspalomas has to offer along with the best nightlife then Playa del Inglés is the resort for you. This resort is without doubt the party capital of the island.
The mammoth Playa del Inglés is an extension of Maspalomas beach. The total length is around 2.7 km's. Yumbo and Pacha nightclubs are the top spots if you are here for the nightlife.
Puerto Rico (Best Resort For Family Holidays)

Puerto Rico is a big favourite for couples and family holidays. This resort lies on the southwestern coastline of Gran Canaria. Puerto Rico has a beautiful sandy beach and two marinas. There are also several good shopping complexes in the popular town centre.
The town is where you will find most of the bars and restaurants. This resort is ideal for those wanting a relaxing holiday without the noise of other resorts.
Las Palmas de Gran Canaria (Top Resort For Canarian Culture)

The beautiful city of Las Palmas de Gran Canaria lies in the northeast of the island. This is capital city of Gran Canaria and joint capital of the Canary Islands. Las Palmas is the place to head to soak up traditional Canarian culture.
The town of La Vergueta dates back to the 15th Century and boasts some amazing architecture. Pueblo Canario and the Botanical Gardens are two more super attractions on offer here.
Most of the resorts in Gran Canaria have some great beaches to choose from. The best on the island belongs to Las Palmas. The beautiful 3100 metre Las Canteras beach is one of the best in Spain. Las Canteras has a beautiful promenade that runs alongside. This promenade has a great choice of super restaurants and bars to enjoy.
Meloneras (Popular Resort With Germans)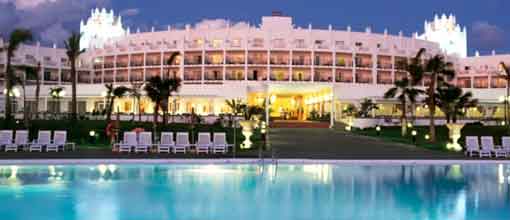 Meloneras is a coastal resort south of Maspalomas. There is a large German community here which makes up a chunk of the population. Meloneras usually attracts the more sophisticated tourists. This is the most upmarket of the resorts in Gran Canaria. There are several trendy boutiques and many designer stores in this area.
Playa de Meloneras is the beach that lines the coastal area. Alongside the beach are many bars, restaurants and a super boulevard. It would be a good idea to bring plenty of cash if you plan on visiting this resort.
Puerto Mogan (Popular With Couples)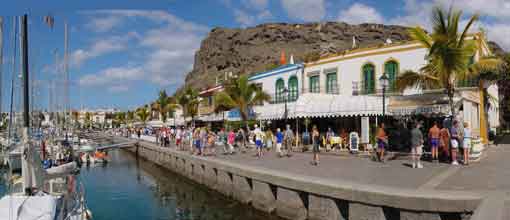 Puerto Mogan is often called Little Venice, a testament to it's beauty. Many consider this to be one of the prettiest towns in Gran Canaria. It's easy to see why with the beautiful harbour and mountains that flank this resort. Puerto Mogan lies next to Taurito on the western coast. Both resorts are popular with both couples and families. Puerto Rico is to the south of Mogan.
Puerto Mogan has a lovely beach which never gets too busy. The promenade is where you will find the restaurants and bars here. Diving the shipwrecks is quite popular here also
Quieter Resorts in Gran Canaria
We have covered the main resorts in Gran Canaria which attract the most tourism. Below is a small snippet about some of the quieter resorts that may interest you.
Playa Taurito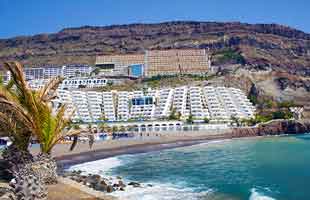 Playa Taurito is a small resort south of Puerto Mogan and north of Puerto Rico. There is a small dark sand beach with several hotels against the rocky cliffs. Playa Taurito water park is another attraction to check out here.
San Agustin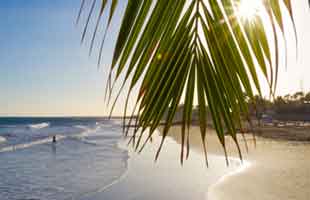 San Agustin is another quiet resort that lies east of Maspalomas. This resort is still close enough to enjoy the nightlife of other resorts. The beautiful beach here is usually quiet with most opting for the busier resort beaches.