Caleta de Fuste is a custom built tourist resort on the eastern coast of Fuerteventura. This resort is also known as El Castillo and Costa Caleta.
Caleta de Fuste enjoys fantastic weather all year round. The temperature here rarely drops below 17 Celsius during the colder winter months. Costa Caleta is another of the top resorts on the island of Fuerteventura and one of the most popular.
This is a super part of the island for families with several beautiful beaches here. If you enjoy your water sports then this is also the place for you. Windsurfing, diving and other water activities are very popular here. If you are a novice diver then you could get some lessons from Deep Blue Diving at the yacht harbour.

Caleta de Fuste Nightlife & Location
If you are looking for nightlife then you could do worse than pay a visit to this resort. The night scene is more vibrant here than many of the quierter resorts in the south. One such example would be the Costa Calma in the southern tip of the island. Costa Caleta has many super restaurants and bars in which to enjoy the nightlife. There are also many quaint cafes to enjoy a coffee and a bite to eat. You can check our bars and restaurants sections to have a better idea of some of the best places here.
One great benefit of this resort is it's only 6 kilometres south of the airport. El Matorral Airport is around a 5 minute drive north. The capital Puerto de Rosario is also a short distance from Caleta de Fuste. You can reach the capital in less than 15 minutes which is 12.8 kilometres north.
Costa Caleta Main Beach (Playa del Castillo)

The main beach here is a horseshoe shaped cove with imported sand which is ideal for all the family. The sand although imported is not so different from any other beach. Some claim the artificial sand on this 800 metre beach can be oily at times which seems a small inconvenience. The tide does tend to come in quicker here than on other beaches which is worth bearing in mind. This beach is popular for both diving and water sports enthusiasts. Sailing and boat tours are usually available here also if you want to take to the sea during your visit.
The name El Castillo (The Castle) is a reference to the 18th Century fortress here. It´s also on the list for places of cultural interest.
2 Super Golf Courses
Golf enthusiasts are in for a real treat with two of the islands four main courses close by. The closest course is Fuerteventura Golf Club which is a five minute drive south. This is a beautiful 18 hole course which picturesque views of the Atlantic. The first 10 holes of this par 72 course all face the Ocean and offer spectacular views. The final 8 holes will take you back to the orginal starting point.

Visitors will need to pay 48 Euros for 9 holes and 66 euros for 18 holes. Those staying in Elba Hotels & Sheraton receive a good discount though. 9 holes will set you back 38 Euros and 51 Euros for 18 holes.
Golf Salinas de Antigua is a short distance south of Fuerteventura Golf Club. This course is a par 70 which covers a max distance of 5.409 metres for men and 4.5652 metres for women. Golf Salinas de Antigua is a stunning course which boasts more fantastic views. Your round will take you past beautiful lakes, palm trees and more beautiful scenery.

This is one of the more technical courses on the island which will challenge the best golfers. Salinas de Antigua is actually a resort in it´s own right. There is a 5 star hotel here and you can also buy a villa on the course. Another features of this course is the magnificent restaurant and clubhouse. Non residents will have to part with 52 Euros for 9 holes and 62 Euros for 18 holes.
Check Hotels
Things to do
Some of the best things to do it this resort include paying a visit to one of the excellent beaches found here. You can also sample the many water activities on offer. The Centro Commercial Atlantico is an adequate place to do some shopping. There are also quite a few restaurants in this centre for some lunch or an evening meal. You could also pày a visit to the 18th Century fortress El Castillo (The Castle).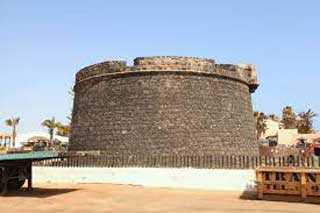 Bars & Clubs
Some of the top bars in the area include Legends Bar, Dog & Duck and Pieros Music Cafe. The Kings, Jayne´s Purple Lounge and The Lord Nelson Bar are more places you may wish to check out. For beautiful views of the coast and Atlantic, El Faro Lounge Bar (Lighthouse) may be for you.
Top Restaurants
For restaurants, Algo Mas is one of the best places to dine if you enjoy seafood and healthy eating. For Indian lovers one of the top restuarants here is Bollywood Spices.
Ascension and Bar Oliver are two great options for Mediterranean cuisine. We recommend Bar Oliver for Tapas & Cocktails also. This restaurant opens at 5pm until 1am Tuesday´s to Sunday´s. They also have regular live entertainment here. Their address is Calle Alcalde Juan Évora Suárez, 120 if you want to book a table. We have a link to their website just above also.
For a mean breakfast and sports then The Lounge Bar is worth checking out.
Oceanarium Explorer
Here you can feed the fish and even swim with the sea lions. What is unique about Oceanarium Explorer is that they also offer boat trips and water sports. This even includes hiring a jetski for 20 minutes which is currently 55 euros.