Corralejo boasts some amazing things to do during your visit. This small part of of Fuerteventura enjoys a fantastic climate almost all year round.
The magnificent beaches here are among the best in the Canary Islands. Several of which lie close to this popular town and at the many super resorts on the island. The sea here is a deep shade of blue that is crystal clear in places. Be careful with the strong currents the island is known for!
Water activities are popular here as are bike trips and safaris back on land. There a several miles of fine sand dunes on the outskirts of the town. These dunes are now considered to be a nature reserve.
Corralejo Beach & Surrounding Beaches

One of the top attractions located south of the town is the magnificent Corralejo beach. There are over 150 beaches in Fuerteventura but Corralejo beach is one of the longest and best. To the north you can see Isla de Lobos with the island of Lanzarote further north still.
Water sports and activities are popular here, especially for surfers, windsurfers and kiteboarding. Flag beach is one of the top kiteboarding and windsurfing locations on the island. Corralejo beach is equipped with sun loungers and the sea is fairy calm around this part of the island.
Nightlife

The nightlife in Corralejo is more conservative than Tenerife or Gran Canaria. There is still a good selection of bars, restaurant and clubs to enjoy late night music and dancing.
Much of the nightlife takes place on Avenida del Generalisimo Franco. Especially the Centro Commercial Atlantico which runs through the centre of the town. The popular strip and the music square are a few of the typical places to enjoy the nightlife.
Fuerteventura Kite Festival

The International Fuerteventura Kite Festival takes places in the dunes of Corralejo. The Kite Festival has been a regular event since 1987. This event lasts for 3 days and commences in early November. The festival attracts kite enthusiasts from all over the world. The popularity of this festival appears to grow each year.
The Sunday festival is the biggest day. 150 kites and other flying objects are keeping the children entertained.They are also presented to the children. Several clubs now to meet and practice their kite flying skills. All in preparation for this entertaining day in the Corralejo calendar.
Map Location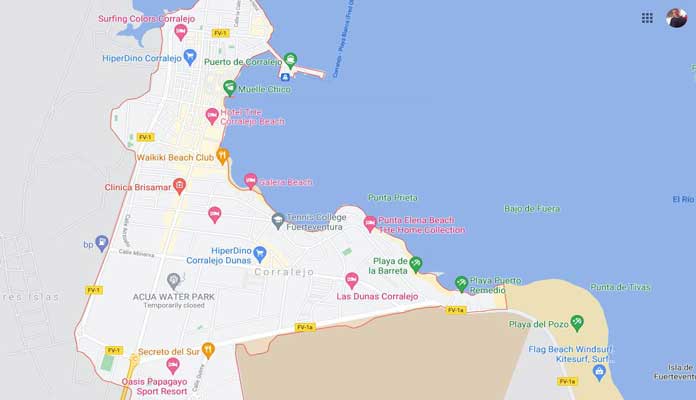 Check Hotels
Local Information
The tourism boom in the 1970's has seen the population of Corralejo and the La Oliva region increase. The population is gone up from 3,000 to well over 25,000 inhabitants. The streets are now lined with bars and restaurants. All serving refreshing drinks and delicious sea food. From the port you can reach Lanzarote by ferry in around 20 minutes. You can also visit the beautiful tropical island of Isla de Lobos (Wolf Island).