With the abundance of great beaches on offer and the promise of strong Atlantic Ocean winds, water sports have become hugely popular in Fuerteventura.
Kitesurfing, windsurfing and normal surfing are the most common beach activities here but there are several others.

Sotavento (picture above) is particularly busy for windsurfing and kitesurfing. This massive beaches runs alongside the popular Costa Calma Resort in the south of the island. Fuerteventura has become one of the top locations in Spain for board activities and the number one location among the islands.
Kiteboarding & Windsurfing Championship in Fuerteventura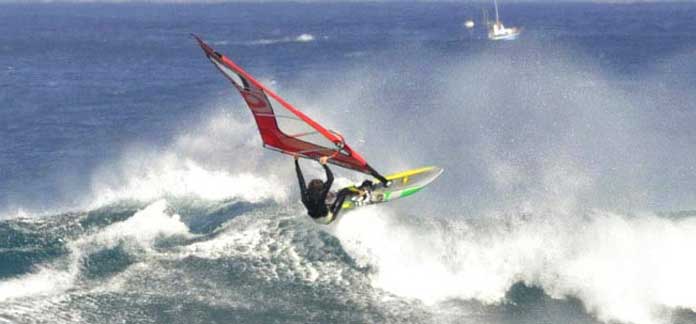 Sotavento is also the venue for the yearly windsurfing championships. It's worth mentioning that sailing is also popular here along with boogie boarding.
Flag Beach offers courses for sailing, windsurfing, kitesurfing and surfing if you are interested in learning during your visit.
Best Wind Conditions
The best conditions for wind in most places tends to be between March – September. March and April is when you are likely to catch the bigger waves when the wind is at it's strongest.
Conditions are still excellent for board activities until September but there are usually less windy days during the winter months. Although the wind drops off in winter, there are still locations that can produce good conditions all year round.
Check Hotels