The Costa Teguise is a leading tourist resort located on the eastern coast of Lanzarote. This popular holiday destination was built to attract tourism like much of the Canary Islands. Costa Teguise is now one of the top resorts on this beautiful island.
The focal point of the resort itself is the 4 beautiful beaches. Most of the tourism here evolves around these beaches. Hotels, apartments and other types of accommodation are now available. These cater for the growing number of visitors to this pretty resort off the coast of Western Africa.
Costa Teguise Nightlife & Square – Plaza Pueblo Marinero

The pretty square and lively nightspot of Pueblo Marinero is a must visit for a great evening out. Pueblo Marinero has many excellent restaurants catering for all tastes and cultures. From local fish dishes, Italian and various meat dishes from around the world. There is often live entertainment on offer in the evenings here as you prepare to hit one of the many bars.
The most unique thing about Pueblo Marinero is the night market. The market opens on Wednesday's and Friday evening depending on the time of year. This night market specialises in all types of arts and crafts. Not the typical junk you may expect to find at some markets.
Most of the Brits tend to head here in the evening. If you are hoping to escape them on your holiday it's best to head elsewhere. Avenida de Jabillo and Avenida Islas Canarias are other areas with vibrant nightlife.

Costa Teguise Beaches

The beautiful Costa Teguise beaches are the main attraction of this resort. These beaches are among the best in Lanzarote and popular with bathers and windsurfers alike. Costa Teguise is the leading resort for windsurfing, diving and other water activities.
The 4 beaches here are Playa de los Charcos, Playa de las Cucharas, Playa del Jablillo and Playa Bastián. Each beach found on this resort are natural so no imported sand here. Our personal favourite is Playa de las Cucharas (Spoons Beach). The Costa Teguise beaches are not big compared to other resorts but they do tend to get busy. Rental services of parasols and sunbeds are always in good supply.
Things To Do For Families, Teguise Aquapark

The Aquapark in Costa Teguise is the biggest theme park on the island of Lanzarote. This park is a fantastic day out for the whole family. Aquapark boasts around 20 thrilling water rides and attractions. These water attractions range from adrenaline to total relaxation.
Some of the top attractions here include Kamikaze, Rapids, Spiral and Slides. Aquapark also houses many shops, cafeterias and restaurants. You can check out the latest ticket prices by visiting the Aquapark Website. The standard price is 22.50 € for Adults and 16 € for Children.
Costa Teguise Market (Sundays)
Sunday's between 9 am – 2 pm see this small town come alive as Costa Teguise market commences. This is the biggest market in Lanzarote with tons of super bargains on offer. You will also see plenty of fake designer items such as sunglasses and other goods.
Teguise Market began back in 1982 and is now one of the most important street markets in the Canary Islands. Every Sunday the market welcomes between 1 -2 K visitors.

If you are looking for souvenirs to take home then this is the place to come. You can find all different types of handmade items to remember your holiday. Another feature of the market is the local Canarian dancers that come to perform. The dancing and music takes place in the square by the church.
If you want to spend the morning and have some breakfast or lunch you are spoiled for choice. There are more than 30 cafes and restaurants within walking distance. The official website is in Spanish but you can check their map here to find out where everything is.
Golf Course
Only 5 minutes from the beaches and top hotels is the super 18 hole golf course in Costa Teguise. This course is set in the ancient footballs of an old volcano. A par 72 course which offers stunning views of the Atlantic Ocean as you enjoy a round.

Teguise Golf Course has several driving ranges for practice or for beginners. There is a super golf shop where you can buy clothing, clubs and other golf merchandise. You can also have lessons if you are new to the game or want to brush up on your skills. The clubhouse is where you will find the Tres Lunas restaurant for delicious meals.
Climate
Costa Teguise boasts a superb climate which yields an average temperature of 20 Celsius. Some of the best weather in Lanzarote and indeed the Canary Islands is here.
The summers are nice and hot with the winters mild. The coldest it gets here is 17 Celsius in winter. August is the hottest month with an average temperature of 25 Celsius.
Check Hotels
Activities & Attractions
Below we list some of the top attractions and activities to keep you busy during your visit.
Fundacion Cesar Marique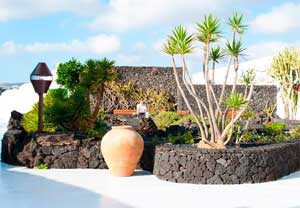 The Artist and Architect Cesar Marique was born in Arrecife in Lanzarote. His incredible talent can be be seen by visiting the Fundacion Cesar Marique. This unique house has walls carved from the surrounding volcanic rock. The beautiful landscaped gardens are unique to anything you are ever likely to see.
Scuba Diving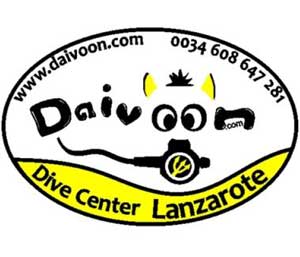 With ideal temperatures of between 18-25 Celsius Lanzarote is perfect for diving. There are many operators that offer diving and other water activities. Daivoon have been operating since 2008. This company have a great reputation for their diving services.