Las Palmas de Gran Canaria is the biggest city in the Canary Islands with around 400,000 inhabitants. This area accounts for almost half the total population of Gran Canaria. It's also a leading tourist destination.
This city shares the capital city title with Santa Cruz de Tenerife to the west. Las Palmas becomes the Capital when parliament changes every four years. An estimated 3.5 millions visitors head to Gran Canaria each year with a good chunk heading to the capital.

Located east of Tenerife, Las Palmas enjoys a superb climate all year round. The average yearly temperature is a warm 20 Celsius. This City lies on the northeast tip of the island, a short distance south of Santa Catalina.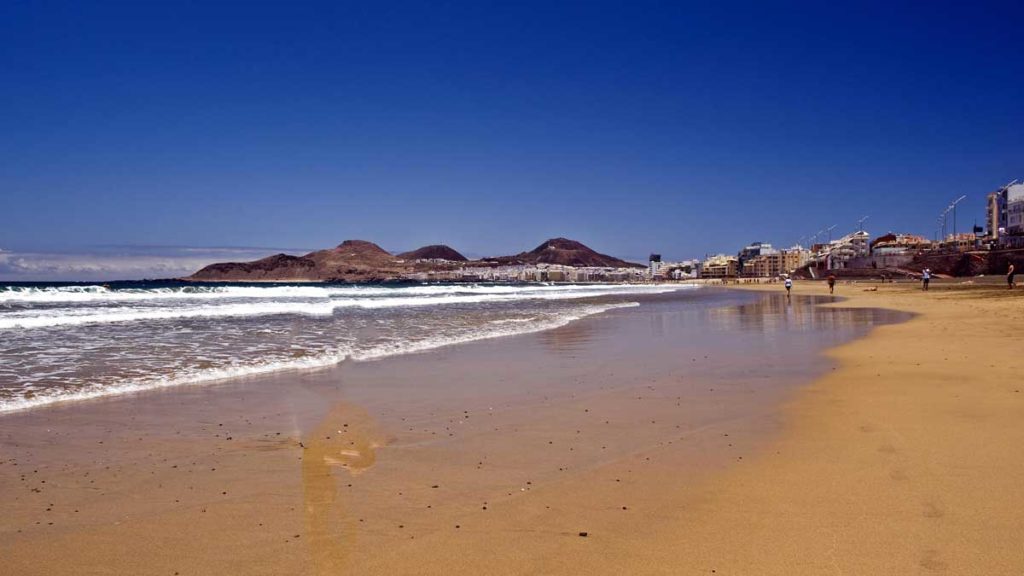 Las Palmas de Gran Canaria Tourism & Travel Guide
Las Palmas is also the location for the biggest beach on the island. Las Canteras Beach is huge at around 3100 metres in length. Gran Canaria Airport is around 11 miles to the south on the eastern coast. The busy Puerto (Port) de Las Palmas has been operational for over 5 centuries.
The port serves all types of domestic and commercial shipping and is a major stop point for cruises. This busy port welcomes hundreds of thousands of visitors each year.


Attractions & Things To Do In Las Palmas
Las Palmas is the Capital City and the most populated area of the island. There are many interesting attractions and thing to do to keep you busy when visiting Gran Canaria. Here there are 5 very different beaches to choose from and plenty of history and urban culture on offer. Below we provide an insight into some of the best attractions and a few of the top things to do in Las Palmas.

Las Canteras Beach

Billed as one of the best urban beaches anywhere in Spain, Playa de Las Canteras is a must visit. This beach has a length of 3100 metres and an average width of 50 metres.
Las Canteras is the longest and best beach in Gran Canaria. The golden sand stretches for as far as the eye can see and is occupied for 12 months of the year.
The warm all year round climate means sun worshipers can visit here any time of the year. The promenade runs alongside Las Canteras. This is always in immaculate condition to enjoy a stroll. You could also visit one of the many bars and restaurants that line the beach.
Under the water, there are beautiful coral reefs and marine life to explore. Las Canteras beach is one of the top locations for snorkelling in Las Palmas. You will come face to face with Barracudas, Octopuses, Grouper, Eels and other marine life.
La Vegueta – District Walking & Tapas Tour

La Vegueta is a beautiful historical town that boasts some unique architecture. This is a perfect way to spend a nice day out. There are many bars, restaurants and museums here. The most notable is the Columbus Museum building which is 5 hundred years old.
La Vegueta has a beautiful cathedral, and some amazing renaissance architecture to enjoy. Please ensure you bring your camera. There are several tour operators that offer district walking tours. There are also combined walks with a Canarian Tapas tour to sample the local cuisine.
Other interesting things to note are the shopping street of Mayor de Triana. This is where you will sample many of the Tapas should you opt for the tour. This is a must visit place away from the typical touristy areas and should be high on your to do list.
Check Hotels
Population Of Las Palmas de Gran Canaria
Curreently 380,000 living within the city limits.
Area & Landmass
100.55 km² (38.82 square miles)
Distance To Airport
25 kilometres (15.5 miles)
Flag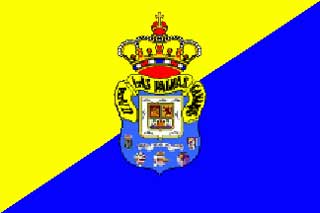 Best Beaches
Las Canteras Beach is not only the most popular in Las Palmas, but also the longest with a length of 3100 metres. Below we list more of the best beaches to check out when you visit. Melendara ilies to the south on the Eastern coast. On cloudy days, you are likely to find plenty of sunshine here. Playa de Sardina is a much smaller beach which lies in the Northwest of the island.