Playa de las Américas is a custom built tourist resort located on the southern coast of Tenerife. Known as the party capital of the island, this is one of the top holiday destinations in Europe.
There is plenty more on offer here than vibrant nightlife. Las Américas boasts some of the best beaches to soak up the super weather on offer. This part of the island enjoys some of the best weather thank's to it's ideal location.
Tenerife as a whole attracts more visitors each year than any of the other Canary Islands. Many of the best known and most visited tourist resorts are here.

Playa de las Américas, Tenerife
The resort of Playa de las Américas is where everyone heads for the vibrant nightlife and all night dancing. This is especially true of Verónicas strip which is full of bars and nightclubs. Located here is everything a reveler could need.
Playa de las Américas lies next to Los Cristianos and south of Costa Adeje among other popular areas. These are 3 of the top resorts in Tenerife which welcome millions of visitors each year.

Playa de las Américas Beaches
The Playa de las Américas beaches contain imported sand from the Sahara Desert. This is due to the volcanic nature of Tenerife. Many of the beaches on the island are the familiar black sand composition. Most of popular beaches here are the imported golden sand.

Troya is the top beach here with golden sand and the beautiful promenade. The promenade is full of great bars, shops and restaurants. Troya has all the services one would expect and is a great beach for all the family. This beach has two bars, toilets and plenty of sunbeds for hire during your visit.
The water is particularly calm here and ideal for swimmers of all ages. There are also many water sports and equipment hire services on offer. The water sports available here include jet-skis, paddle boats and various board activities.
El Camisón y El Puertito are two more beaches located close by which are also worth checking out
Map Location
Please click the image below for a full size map of Playa de las Américas.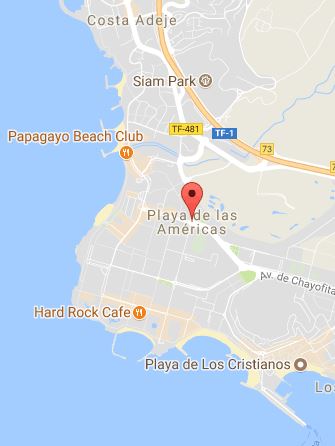 Check Hotels
Las Américas Golf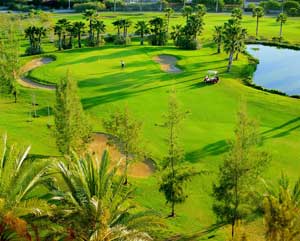 Golf is particularly popular in Las Américas with the majestic 18 hole golf course. This amazing course was built in 1988 by John Jacobs Associates. This beautiful course has a restaurant and tons of facilities. Las Madrigueras hotel is also built alongside the course.