Puerto del Carmen holiday resort is lies on the southeastern coast of Lanzarote. The most northern of all the Canary Islands. Puerto del Carmen is the number one of the major tourism resorts in Lanzarote. This popular destination attracts around 1 million visitors per year.
This town is almost completely dependent on tourism. Puerto del Carmen is popular with the Brits, Irish, Germans, Scandinavians and Spaniards. This part of Lanzarote not only boasts some of the best weather on the island, it's also only a 10 minute drive to the Arrecife airport.

What To Expect In Puerto del Carmen?
There are plenty of great things to do in Puerto del Carmen to keep you entertained. Here you will find many attractions and activities for individuals and families. Below are a few of the many popular things you can do during your visit.
Playa Grande Beach

The super Playa Grande is the main beach here at Puerto del Carmen which means big beach in English. Playa Grande is the most accessible on the island with the best facilities on offer. The composition of the beach is beautiful fine-grained golden sand. Playa Grande is just one of many golden sand beaches that Lanzarote is famous for. The calm waters make for excellent swimming conditions.
Running alongside this beach is the Avenida de las Playas promenade. This is where you will find the bars, restaurants and shops. The length of Playa Grande is 1190 metres with an average width of 100 metres.
Some of the facilities on offer are sunbeds, parasols and a small sports area. There are also showers with lifeguards ensuring the safety of everyone. Other local beaches to choose from include, Playa Chica, Los Pocillos, Matagorda.
Rancho Texas

Lanzarote Park or Rancho Texas as it's known is one of the top attractions for all the family. Here you will find many types of animals and wildlife.
Ranging from birds of prey, sea lions, reptiles, smaller birds and many other types of mammals. Rancho Texas Park also has pony riding and canoeing facilities. There are also several gardens, terraces and green areas to relax during your visit.
Snorkelling & Cycling

Snorkelling & Cycling are a few more popular activities to choose from. Especially with the many fantastic beaches and cycle routes. The waters are particularly calm around this island. This make them ideal to experience the amazing corals and underwater marine life. Cycling is big business here with the cycle lane that runs along the promenade.
There are many companies that offer bike rentals in Puerto del Carmen. Single, tandem and quadruple bicycles can be rented here to enjoy the resort in a fun and healthy way.
Puerto del Carmen Old Town & Nightlife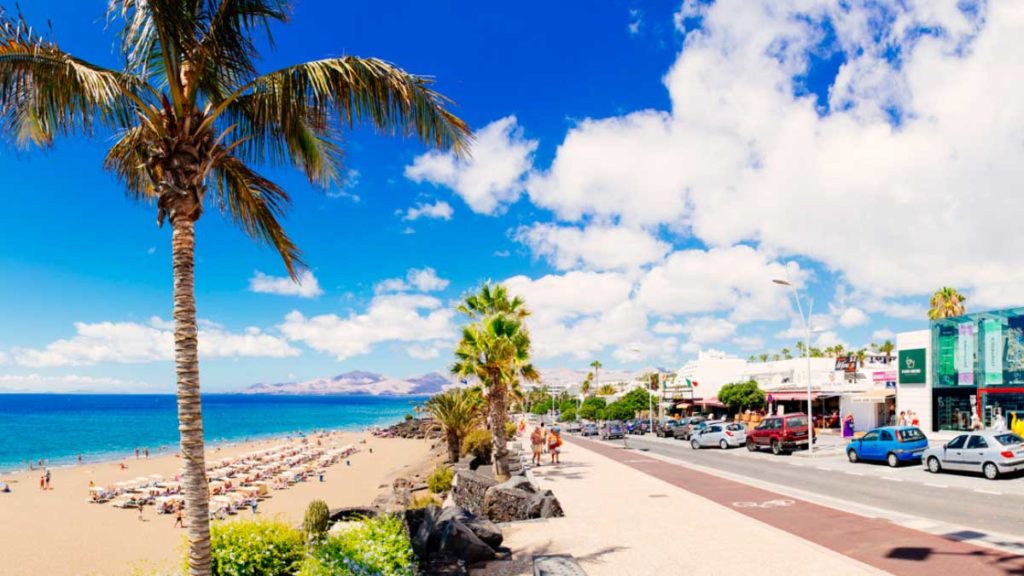 Puerto del Carmen (Carmen Port) is by far the busiest of all the resorts in Lanzarote. This resort is more established and lies on the east coast of the island to the south of Arrecife airport. The nightlife for this resort is without doubt the best on the island. Here there are plenty of bars, restaurants, discos and great entertainment on offer.
The old town here is where you will find the beautiful fishing port and marina. This part of town is also where many bars, cafes and restaurants are. The local cuisine includes sea foods and other Canarian dishes. Most still cater for tourists own cuisine such as English and Italian dishes.
Map of Puerto del Carmen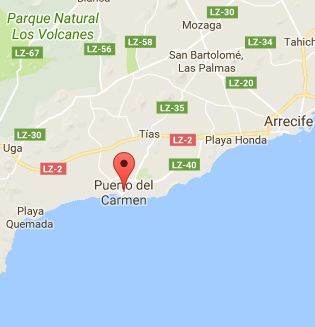 Check Hotels
Beaches
Playa Grande is the number one beach in Puerto del Carmen but there are many more to choose from during your visit. Below is a full of beaches to visit in this part of Lanzarote.
Playa Chica, Playa Grande, Los Pocillos, Matagorda Beach. Medio Beach, El Barranquillo,La Peñita, Guacimeta.
More Fun Activities
Here you will find plenty of activities to enjoy for the whole family or individuals. Below we list most of the things you can do during your visit.
Diving, Gliding, Go-Kart Racing, Water Activities. Shopping, Cycling, Snorkelling, Hiking, Golf, Sporting Activities. Children's Playgrounds & Parks, Various Wineries.
For The Shoppers
This resort has several shopping centres that sell the very best brands. Some of those brands include, Zara, Guess, Timblerland. There are also many sports shops and jewellery shop. Some of the typical places to shop includes, Biosfera Plaza, Chévere, Fund Grube & Tías commercial area.