The beautiful holiday resort of Playa Blanca lies in Lanzarote. The most northern of the Canary Islands of Spain. This area is actually one of the newest resorts of the island which has grown in popularity over the previous decade.

Playa Blanca Resort & Attractions
Part of the Municipality of Yaiza, Playa Blanca is the southernmost town in Lanzarote. This destination is some 45 km from Arrecife Airport. Extensive development has raised the profile of this once tiny fishing village. Many are now heading here to enjoy the fantastic climate and beautiful beaches.
Playa Blanca is not as lively as the resorts of Puerto del Carmen or Costa Teguise. This resort is more sophisticated and ideal for a relaxing holiday.
Marina Rubicon

A factor for the recent development and success of this resort is it's closeness to Fuerteventura. A short 30 minute ferry journey from the port here will allow a visit to this other beautiful island.
The picturesque Marina Rubicon is a short 15 walk from the town. Here you can enjoy the restaurants and shops in the village. The marina offers a wide range of water activities such as sailing and diving.
Playa Blanca Beaches

Playa Blanca or "White Beach" is not only the resort name but also the name of one of the 3 main beaches here. The whole area is actually a large bay split into 3 smaller bays. Playa Blanca beach is in the centre with Playa Flamingo to the west and Playa Dorada to the east.
Further eastwards is the super popular Papagayo beach (picture above). Papagayo is actually a series of smaller beaches and coves.
Castillo de las Coloradas

Castillo de las Coloradas is one of the top landmarks in Lanzarote. This old watchtower was built in 1744 to help defend the island. It also offered protection from invading pirates.
Unfortunately there is no access to the castle itself. It's clifftop location affords it's visitors some spectacular views. Especially of Lanzarote and the island of Fuerteventura to the south.
Castillo de las Coloradas lies a few hundred metres west of Marina Rubicon at Punta del Aquila. There is a board outside the castle providing information in many languages. The information speaks of the castles history and construction. The sunsets here are particularly striking and definitely worth experiencing when you visit.
Map Location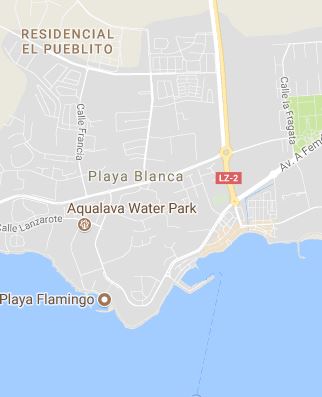 Check Hotels
Water Sports
Like all of the popular Canary Islands, water sports are among the top activities in Playa Blanca. Diving, sailing, snorkelling and windsurfing are available from Marina Rubicon. Along with several other local businesses.
Pura Vida Diving is a great choice if you want to dive at one of the 6 locations in Playa Blanca. Pura Vida also offer diving in Puerto del Carmen, La Graciosa Island and Costa Nordeste.