The popular Costa Adeje lies north of Playa de las Américas on the western coastline of Tenerife. This beautiful location attracts attracts millions of tourists each year.
Costa Adeje is well known for having some of the best annual weather on the island. The ominous presence of the Mount Teide Volcano acts as a shield from the colder northern winds. This helps to keep the temperature warmer to the west. Costa Adeje is more sophisticated than some of the other resorts. It tends to attract the rich and famous and those with plenty to spend.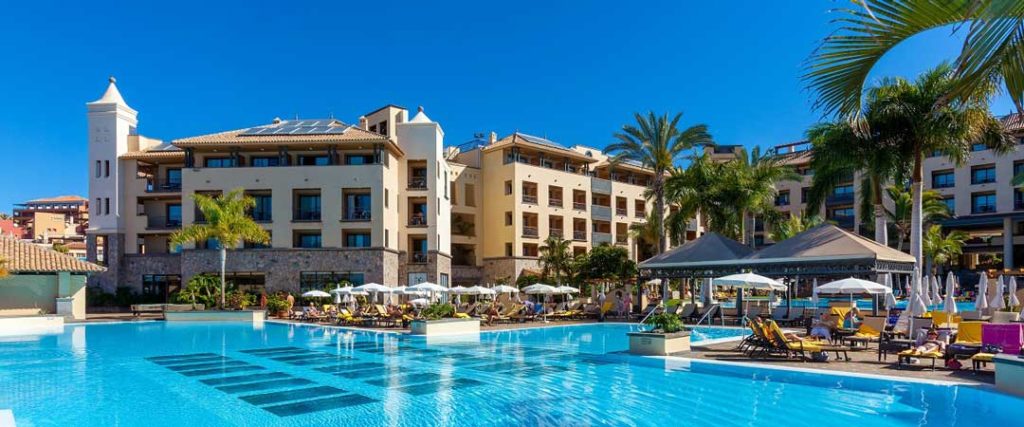 Map Location
You can click the image for a full size map of Costa Adeje and surrounding areas. Alternatively, you can find out more about the maps of Tenerife which includes the best resorts and points of interest.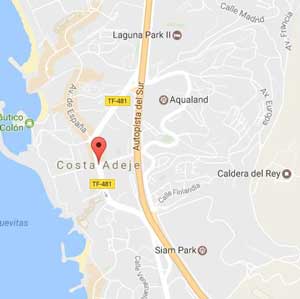 This area boasts many luxury 5 star hotels such as the Grand Hotel (pictured above). The coastal areas contain some of the finest restaurants on the island. There are not as many clubs and late night bars around this resort. If your fancy more nightlife, you are only a stones throw away from Los Cristianos and Las Américas.
Beaches In Costa Adeje

Costa Adeje has two blue flag beaches to choose from among others if you are here to top up your tan.
Playa Fañabe has the usual black volcanic sand, sun loungers disabled facilities. There is also a luxury 5 star hotel on the beach-front. This beach is popular for water sports and diving is particularly common here.
Playa del Duque is a big favourite with the visitors and locals. With it's beautiful golden sand imported from the Sahara Desert. This beach is easy to access on foot or by car and has over 100 parking spaces available. There is also excellent access for wheelchairs from the promenade. If you step if the beach onto the promenade there are bars, restaurants and shops. You will also see many more luxury hotels along the promenade.
Playa del Duque has an average width of 60 metres and a length of 390 metres. This beach has plenty of sun loungers and umbrellas available for rent to shield you from the hot sun.
A few other great beaches here are Puerto Colon and Torviscas. Overlooked by the super Kaluna beach club.
Costa Adeje Water Parks

Costa Adeje has 2 fantastic water parks in close to the resort. One is arguably the best water park in Europe. The super Siam Park is a Thai-themed attraction that is a combination of a water park and adventure park. There are some fantastic rides such as Volcano, Dragon and the Tower of Power to enjoy. Siam Beach is the parks very own sandy beach with sun loungers. There also many water rides and magnificent views of Mount Teide.
Aqualand is another popular water park in Costa Adeje. This is more traditional than Siam Park. Here there are some high octane water slides such as Flying Boats, Twister Racer and Rapids. There are plenty of family rides suitable for small children of all ages also. Don't forget to check out the fantastic dolphin show to keep you entertained.
Check Hotels
Nightlife, Bars & Entertainment
Much of the wild nightlife tends to happen in Playa de las Americas to the south. There is plenty of great entertainment on offer here also though. Costa Adeje boasts some magnificent beach clubs, bars and restaurants. Many of which provide the very best food and entertainment.