Los Cristianos underwent major tourism redevelopment back in 2007. It's now emerged as the second most popular resort behind Playa de las Américas. Los Cristianos lies to the south of the number one resort. This resort boasts a beautiful harbour that's overlooked by the mountainous backdrop.
The harbour used to be busy with shipping up until the 1970's. It's now the location for smaller ferries and luxury yachts.

Los Cristianos Promenade, Restaurants & Bars
Most of the action here takes place around the promenade. Here you will find plenty of cafes, bars, restaurants and discos. Los Cristianos is not as busy as the other popular local resorts of Costa Adeje and Las Americas. There is still plenty available here for everyone to enjoy. Los Cristianos has two famous beaches to choose from which speak of below.
Tourism & History
This resort was once a small fishing town before the tourism boom in the 1970's. Los Cristianos now has a population of over 20,000 inhabitants. The history here is much richer than some of the other popular resorts on the island. There is still a traditional Canarian look and feel to this small town.
Due to the increasing popularity of Los Cristianos, development has continued inland. This development started at the port but has since worked it's way to the outskirts of the town. Tourism is the major contributor to location. This should be evident with the amount of hotels, bars and restaurants found here.
Playa de Los Cristianos & Las Vistas Beaches

Playa de Los Cristianos (pictured above) is the main beach which has golden sand. This beach gets protection from the harbour. As a result, the waves are gentle here and water sports are particularly popular. Playa de Los Cristianos has a length of 345 metres an an average width of 80 m. This beach is easy to access from the promenade for both normal and disabled access.
Some of the services on offer hear include showers, foot showers, parking for around 100 cars. There are also rental facilities for parasols and sunbeds.

Las Vistas Beach is a smaller bay with water breakers located next to Playa de Los Cristianos. It's also connected with El Camisón beach from the adjoining Playa de las Américas resort.
Las Vistas is an artificial beach with a water fountain at the sea front. This fountain feature has been made to represent a small island. The promenade allows for easy access to this beach which is popular with the locals and tourists.
Some of the facilities here include showers and toilets with lifeguards in attendance. There are also plenty of water sports and activities. Parasol and sunbed services are also available here. The promenade contains a variety of bars and restaurants. These are ideal for refreshments and to sample the local cuisine
Map Location
Below is the map of Los Cristianos which will take you to a full size Google map. You can find more information here about other resort maps and points of interest in Tenerife.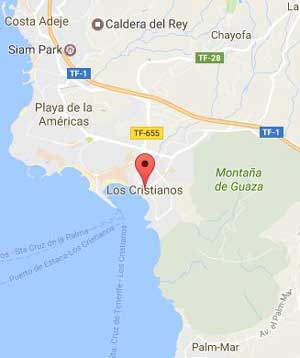 Check Hotels
Monkey Park, Tenerife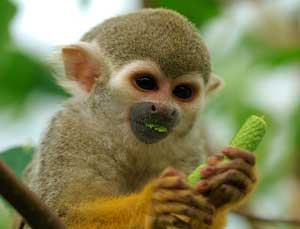 Monkey Park as the name implies is a breeding centre for endangered species. This animal park opened in 1991 as a leisure park. It's since changed to focus more on the preservation of these endangered animals. The climate is perfect for the assortment of primates that are bred here. Also the cactus garden which is a feature here also. Monkey Park is open from 09:30 to 17:00 everyday and tickets are priced at 10 € for adults and 5 € for children.